What our Parents Say
We have an Open Door Policy which means that parents and families can come at any time to speak to our staff or look around the nursery.
We send out parent questionnaires every term, hold regular parents evenings and produce a nursery newsletter every term giving the latest information and news.
Please see our recent survey of 2018 shown in the chart below: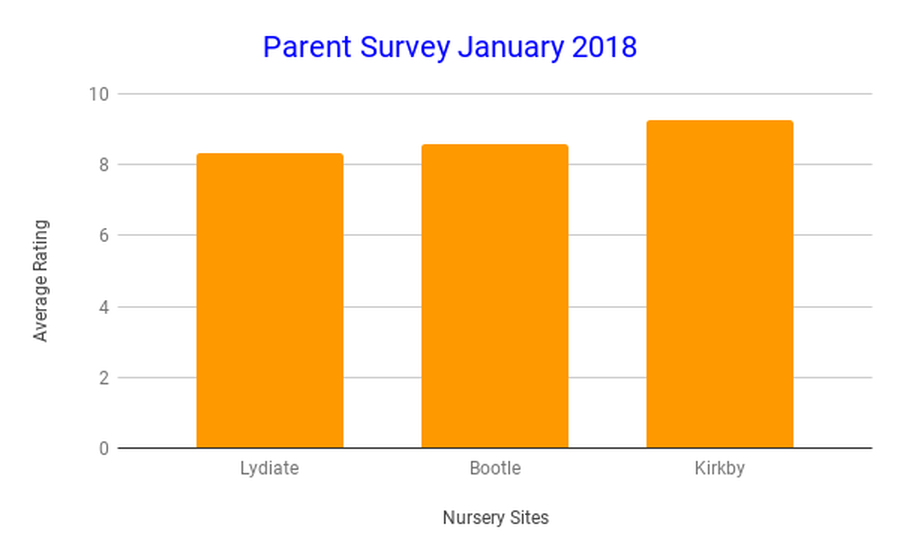 And here are examples of what parents say about our different nurseries – but please, come and see for yourself!
Kirkby
'Excellent, friendly, ready to help, uplifting atmosphere, clean and tidy, safe facilities, hygienic toilets and rules for the children.'
'The staff at Parklands have been fantastic with us from the start. My child's key worker has helped them so much!'
'Information given at the parents evening was very informative and the suggestions on how to help with potty training was very good.'
'My child is developing well – he talks about the nursery and the staff all the time.'
'All the staff are really nice my child's key worker is lovely and very helpful nothing is too much for her.'
Lydiate
Hear what our parents have said from a questionnaire in November 2019:
'My child is happy coming to nursery and is very settled and comfortable throughout the day. I can call and speak to staff at anytime and they are always helpful. My child has bonded with all the staff and feels safe and secure at Parklands. Even if she is a little under the weather or not herself she will find comfort with the staff. I chose this nursery because out of the 4 I viewed, it was the only one were the children were happy and chatting and approaching me on my visit.'
'My child is very happy in nursery. he loves his friends and all the staff are very caring towards him. he likes lots of cuddles- which he gets. Thank you xx'
'I would recommend Parklands Nursery, Nicky and her staff are welcoming, helpful and friendly. Myself, my partner and my child enjoy our time here.'
'I am very happy with the care given to my child, all staff are very approachable.'
'Everyone we bump into is friendly and very caring towards the children, including ours! Our child is very happy and settled coming in and enjoys being in nursery seeing the staff and children. The children are always very happy and engaged and there are lots of different activities and resources available.Staff are aware of the children's needs and interests.We love seeing the photos and videos on the Tapestry App. We are well informed in the daily diary and verbally by staff about our child's day at nursery.We are more than happy with all the food provided and how well our child's food allergies are accommodated for. Big thank you to all of the staff.'
'I am always happy with how my child is cared for and the staff make her feel important and it's nice that the staff know me and dad by name. Now that my child is settled, she is happy to wave Dad off which tells me she feels safe and secure. The staff have a great relationship with my child and they are al;ways talking to her and engaging. The nursery always looks clean and smells clean and has a friendly environment. Lovely warm feel to Parklands and overall I am very pleased with my child's care and experiences here. Staff are very approachable and friendly. Thank you '
'My child can be a little unsettled at first coming in, but I feel comfortable knowing he will be quickly settled. He loves his teachers and is treated equal like the other children. The nursery is bright and colourful and full of fun. The children are always laughing and singing and there is lots of toys and activities for them to choose from. It is very clean and that is one of the reasons I first liked Parklands.'
'Fantastic Nursery and staff are so good with each child.!'
'Staff are friendly and approachable. It's lovely to see the observations and the different activities planned/carried out on Tapestry. Its clear to see that the activities and learning have been considered and planned well.I think it's lovely that all the children have their own coat pegs (even babies!) My son has settled really well and is always happy and busy when I collect him. Parklands is well known nursery with a great reputation among the Maghull/Lydiate community. Thank you for all your hard work!'
'Tapestry updates are great, especially when in real time. Lovely to see your child happy when you are working'
Staff are always really caring towards my girls and it's very rare that they leave without a hug or a high five. Both girls always seem happy going to nursery, especially my eldest child she talks about nursery at the weekend and likes looking at the photos on Tapestry. The staff are always very friendly and helpful. It's very clear that they care about my girls, when new and unsettled the regular updates on Tapestry put my mind at ease, I knew she was in very good hands. Thank you for looking after them both so well, I feel like they have a special bond with their key staff.'
'Thank you for all your hard work and kindness that Parklands have provided to ensure the happiness and development of my child. He is always progressing due to attending nursery.'
Bootle